Kissonerga is a village in South West Cyprus, about 5 miles north of Paphos, in a region notable for the cultivation of banana plantations, an area known as the Ktima Lowlands. In 1980 the population of the village was 700 people.
Kissonerga is about eight kilometres down the main road from Paphos towards Coral Bay. Along the coast road are several hotels, mini-markets, numerous bars and taverns, as well as small complexes of shops mainly catering for tourists.
Away from the coast road, Kissonerga village has a main street where there are restaurants, several mini-markets, two banks, two coffee shops (one of which also operates as a sub post office), a bookshop, florist, chemist and hairdressers. There is also an internet cafe near the playground.
At the far end of the main street, opposite the school, which caters for children from nursery age to 11 years old, there is a communal area which is mainly used as a playground. Bordering this area is a monument dedicated to two young men of the village, Christos Miltiadous Kkelis (23) and Georgios Michalis (17) who were members of EOKA (National Organisation of Cypriot Fighters) and who died for their cause. The main street that runs through Kissonerga is named after Kkelis.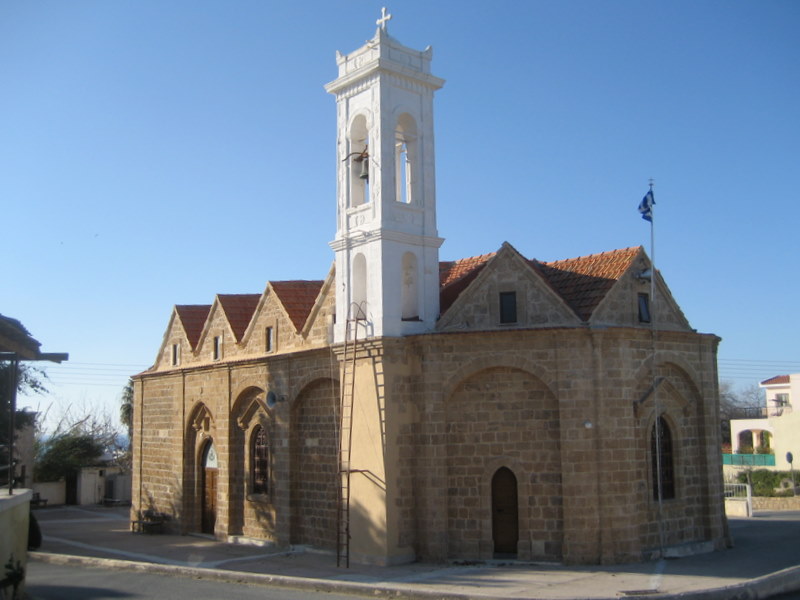 Across the road from the playground is the Church of the Transfiguration (also known as Metamorphosis) and not far from this church are the ruins of a tiny chapel dedicated to Saints Zinovia and Filonilli. Although of modern architecture, the church the icons from the church of 1775 are preserved. These two saints accompanied St. Paul to Paphos to help spread Christianity. They died and were buried in Kissonerga.
To the north of Kissonerga a new football stadium has recently been built in amongst the numerous plantations of bananas. Before the advent of European Union directives, Kissonerga was awash with these thriving plantations, but now many of them have fallen into decay as the bananas produced did not fit the exacting criteria that allowed them to be exported to other parts of the EU.
Among the establishments to be found in Kissonerga, are a horse-riding centre and the boat yard which sells, repairs and services boats of all shapes and sizes.
More info @ Wikipedia